From the bottom of my heart - THANK YOU, I truly appreciate everything you did and all your hard work to make the wedding dress of my dreams; actually better than my dreams. My wedding dress was perfect, in every conceivable way ❤️
Words aren't enough to explain how thankful I am! You are an incredible artist; to be able to make someone feel the way I did in an 'item of clothing' is absolutely remarkable.
I loved every aspect of my dress; from top to bottom and wouldn't have changed a thing!
Looking back; my wedding dress was one of my favorite elements of not only the day but the entire process. Lots of curveballs were thrown; some expected and some not. But looking back, the entire wedding dress design and fittings with you went off so smoothly. Knowing what I know now, that is completely rare. From beginning to end; there was never a moment of doubt that I wouldn't get a beautiful dress and there was no stress about my wedding dress whatsoever. Considering it is a pretty big element of the day, I will forever be grateful to you for providing that stability, reassurance and overwhelming joy for one of the biggest days of our lives.
I am and will forever be in love with my dress - so THANK YOU for everything, you truly are incredible and an absolute gem!!
With so much love and appreciation.
Jessie (Durban)

Where do I begin,
Absolute perfection! The attention to detail, the experience and most importantly MY DRESS!
I had been admiring Casey's work years before I got engaged and when I did, Casey was the first person I contacted to be a part of my day.
My dress completely blew me away and was more then I could have ever dreamt of.
I've never felt more beautiful and or confident and even more importantly comfortable and there is no one I can think of that was so perfectly suited to make this happen. I just wish I could live the experience over and over again.
- Josey (Ballito)

My need for perfection and authenticity was totally matched by this amazing designer!
Her exquisite taste in fabrics made my task of selecting what to use on my dress, a blessed challenge.
She took such care in getting to know me as a bride and brought my visions to life in ways that I could not have imagined. And, added a special touch by adding hand-beaded butterflies in a very tasteful way on my dress to represent my dad, who would not be there on my special day.
This meant the absolute world to me, taking her masterful creation to a meaningful one. You made me feel so beautiful Casey Jeanne!
Thank you so much to you and your team!
Much gratitude and love.
- Joy (Cape Town)

From the moment I met Casey I knew I wanted to wear a Casey Jeanne creation.
Her incredible creative talent and her attention to the finest details make her the BEST bespoke designer!!!!
You and your wonderful team made the whole process seem so effortless. I felt like a princess from beginning to end. Thank you thank you for the most beautiful dress. Any future bride who has the privilege of working with you would be amazed and no doubt be completely happy.
- Natalie (Pietermaritzburg)

Being a second time bride, I was not sure of what I was looking for or what kind of bride I wanted or needed to be. Meeting Casey for the first time was exciting and overwhelming as the fabric choices and her quick sketch of all my ideas and visions made me feel like a celebrity getting ready for the red carpet. My first fitting was all and more I ever wanted, she hit the nail on the head and although this was the second time around, I felt unique, special and like I was doing this for the very first time. Her attention to detail and the way she thinks when you explaining to her and then project's her vision with a loud shriek and clapping of her hands as if it's her very own dress, I wouldn't change this experience for the world. It's a memory that I will always remember and hold close to my heart, there won't be a third time but I'm sure hoping for a function for our paths to cross again, I felt like a princess and my guests and husband were left speechless, I rocked it even if it was the second time around!!!!
- Melissa Naidoo (Pietermaritzburg)

There are no words to express my gratitude to you and your wonderful team. You are kind, caring, compassionate, loving and your attention to the finer details leaves one speechless. When I walked down the aisle and saw the tears filling Kirans eyes, I knew in an instant you were the right choice. Thank you pretty lady for giving me a spectacular dress and an experience that will forever be remembered. We met as strangers but parted as friends, I will forever be grateful to you and the part you played in our special day!
- Urasha Moodley (Port Elizabeth)

The first time I ever saw a dress created by Casey, I was bowled over by her exquisite creations! Post after post I just could not believe what attention to detail she gave every single dress! THEN the day came, the love of my life proposed to me and I had no doubt in my mind who I was going to ask to make my wedding dress. The experience having my dress made by Casey and her team exceeded all my expectations! I hear of so many brides being so stressed about their dress! When it came to my dress, stress was the furthest thing from my mind! The entire process from the first email to the day of collection was phenomenal. Casey and her team are the most humble, hard working and talented people I have ever met! If I had to do it all over again I would without a doubt choose Casey Jeanne over and over again! If there are any brides out there reading this, Casey Jeanne is your answer!
Thank you, thank you, thank you
-Steph Van Rooyen (Umhlanga)

I first met Casey Jeanne a month before my wedding. Over skype! I am based in NYC and she is based in DBN. In those few short weeks, she dreamed up my gorgeous, hand embroidered dress and worked late nights to have it in my hands when I landed in SA the week before my wedding (I still can't believe we pulled this off).
Casey Jeanne, I can't thank you enough for making me feel beautiful on my wedding day. I love going through your feed and seeing all your gorgeous creations- know that I'll be on the sidelines cheering you on for everything that is still to come your way! You are incredible.
- Candice Forbes (New York)

The minute I emailed Casey from abroad I knew I was in good hands. From her quick turnaround with email responses to her craftsmanship, she is an absolutely gem to work with. We chatted for over three months via email and my first fitting was exactly 14 days before the wedding. Boy oh boy, did she exceed all my expectations. The dress fitted like a glove and was so beautiful it pretty much left my mum and I speechless. Her attention to detail and professionalism is outstanding. Brides to be, living abroad, it honestly doesn't get better than this!
- Arnica Miakista (London)

Just the absolute best ~ still obsess over my dress & veil + the whole experience with Casey-Jeanne was such a dream!!! You brought my wedding look to life better then I could imagine; couldn't recommend Casey and her team more.
- Ashleigh Kerr (Johannesburg)

From the moment we got engaged I knew I wanted a Casey Jeanne creation! Casey was amazing through the whole process! She has an incredible talent and I couldn't recommend her and her team more! I am still obsessed with my dream dress! Thank you for making me feel like a princess on my wedding day!
- Nicolle Voigt (Durban)

I just got all of the wedding pics, and seriously, this dress is insane! I don't really consider myself as a "beautiful" person, but in this dress I felt so so amazing and honestly the most beautiful I have ever felt. Thank you for making that possible for me!
- Ashlee Munn (Umhlanga)

I totally understand now why your logo is a butterfly. You took me from my insecure little cocoon after all my bad 'dress trying-on' appointments and turned me into a confident, proud and beautiful bride. You dealt with all my questions, emails and nightmares like a pro and I am so grateful! My dress was PERFECT. Thank you!
- Kendra Semple (London)

I am finished beyond words. You are absolutely incredible. Thank you for making my dream dress it was an absolute vision and I loved every second wearing it. Thank you Casey-Jeanne you are the very best!
- Angela Chan (Umhlanga)

My experience with Casey Jeanne exceeded my expectations (and my mum's) by a long shot. When I first saw pictures of my family friend's wedding gown, I knew Casey would design my wedding dress.
 I was a bit apprehensive about having the dress designed in another country which accommodated my growing shape as I was expecting my first baby. But after our first consultation those feelings went away, Casey wasn't fazed by any of these factors.
Casey "spoke my language" and she knew exactly what I needed my wedding dress to be. Designing the dress was team effort. And was definitely OUR vision which came to life.
 My final fitting left me speechless, and I couldn't wait for my special day to arrive so that I could wear the dress. Despite my being 8 months along on the day of the wedding, I felt so beautiful and much like royalty (my cape was EVERYTHING and more). I received so many compliments and my husband loved the dress.
Casey thank you! Thank you for your patience, your professionalism, your enthusiasm and thank you for making the whole experience so easy and enjoyable.
- Vimbai Mutandwa (Zimbabwe)

Casey is the best of the best. Hands down. Before I was recommended Casey, I looked for wedding dresses in New York and LA and nothing came close to the quality and details of any of Casey's creations.
I worked with her in designing my dress from New York City and the experience was wonderful! - She really knows her fabrics & laces and easily guides you with what works best for the dress you are wanting. My wedding dress turned out even better than I ever could have imagined. I was so proud to wear a custom Casey Jeanne dress on my wedding day! I actually think the dress received more compliments than I did!:)
Thank you Casey!
- Alexandra Kay (New York)

So I had followed Casey Jeanne since I was about 20 years old. I watched her grow and loved her dresses more and more. When it came time for who I would choose to make my dress it was a no brainer.
I flew down about 5 Fridays throughout the year (being from Johannesburg) and it would always be stressful as I worked pretty long hours. So I normally arrived there half asleep and not exactly in the best mood. The thing is every single fitting I left with such excitement.
Casey was incredible to work with, she would literally make my day each time I left. Not for one second did I regret deciding on having my dress made outside Johannesburg. It was honestly the most amazing experience and probably the least stressful part of my whole wedding. Not only did she create my dream dress, she created one I loved even more than I thought was possible. Her attention to detail and the fact that is was made by hand was incredible.
- Rosanna Bibis (Johannesburg)

The BEST thing that could've come across my path before I got engaged was going to a wedding where one of my friends wore a Casey-Jeanne dress. I was blown away by the fine detail, gorgeous lace, and beautiful design. From that moment I knew the day I get married I'd walk down the isle in an exquisite Casey-Jeanne dress.
My whole experience with Casey and her team was so special! It is so much fun looking at all the different laces, play around with different under tones and just watch Casey create magic by bringing everything together! The attention to detail and special care made me feel so at peace and I knew that this would be the one part of my wedding that will be perfect!
I was in tears the first and last time I went for my fitting, my dress was absolutely breath taking! I truly felt like Cinderella on my wedding day, and one thing is for sure, everyone remembers the dress, especially a Casey-Jeanne master piece! My sister is getting married in November, guess who is her dress designer;)
- Dourina Linde (Cape Town)

Casey was an absolute dream to work with! She made the entire process so easy and reassured me along the way. She fitted me in even though I was abroad and she delivered a dress that surpassed any expectations I had.
Her class, touch and elegance could be seen in every step of the process - from the details on the beading to the perfect little buttons that adorned the back of my dress.
As busy as Casey was, she made me feel like I was her sole focus and her only client. I would do the entire process over in a heartbeat as she made it so enjoyable. Thank you Casey for being who you are and I wish every success for you as you really do make dreams come true!
-  Karosha Moodley (London)

I always knew I wanted Casey to design my wedding dress. I had seen so many beautiful brides adorned in her magnificent threads and lace and was absolutely certain that this was the path I was going to go down. I was 100% confident that (the Top Wedding Dress vendor) in SA would be making my wedding dress. I mean - that's good enough for boasting!
Being a bride based in Dubai, when I eventually saw my dress in REAL LIFE, I was speechless!!! Trying it on was a dream come true - it was so much better than I had imagined. No one could stop me twirling and fluffing my dress on my wedding day and I have the pictures to prove it.
There is no doubt that Casey is talented but she is so much more than that. She is calm, graceful and so welcoming and its obvious the amount of joy she has for what she does!
- Leigh MacDonald (Dubai)

I have nothing but praise and compliments to say about my wedding dress experience with Casey. From my initial email to her asking about wedding dresses she was immensely helpful. I visited her studio and I was blown away by the different fabrics. She advised me on what would work with my petite body and I definitely was spoilt for choice. The whole process was stress free and honestly just good fun. Every visit was made special. Seeing my dress come together made me more confident and all you want to feel like on your big day is "Confident". I want to thank you Casey Jeanne for creating the most unique and beautiful wedding dress for me I really did feel like a million bucks on my day. I would recommend any future bride to get their dress designed and made by Casey. Her passion for creating dresses is so evident in the finer details!!!
- Emmalene Barnabas (Umhlanga)

I honestly don't have the words to describe the feeling when you are in Casey's presence, so professional and her work is... yes, perfect!!! My dreams have came true the day I met my dream man, but having my wedding dress made by Casey-Jeanne was a true blessing. I felt femminine, confident, lady-like and like a true princess (the groom was speechless), it was all I wanted and more. I had an incredible day, from the moment walking down the asile to dancing the night away (really dancing in my dress). I could not imagine a more perfect dress for my body type, and a perfect wedding day! Now I'm left with the best memories from planning to my wedding day! I recommend Casey Jeanne to any one she really knows how to deliver exquisite work! Thank you Casey!!
- Corné Zeelie (Mpumalanga)

A BIG thank you from the bottom of my heart for creating my dream wedding dress! I could not have wished for a more perfect dress.
Thank you for everything you did.  A special thank you for being there with me on my special day! You are so so talented and I wish you all the best for your career going forward! You are unreal.
Everyone has been commenting on the dress, how perfectly it fitted me and how incredible it was.
- Anna Downes (Ballito)

I wanted to thank you and your team for making my wedding dress experience with Casey Jeanne absolutely incredible. Being a bride from Dubai and with time on my side, she reassured me that there was nothing to worry about, and that everything was under control. I literally tried my dress on for the first time, five days before my wedding (with no fittings - which shows the immense talent of this lady), and I was blown away as the dress was perfect; with the attention to detail (exquisite lace, beading and excellent workmanship), my sizing and the actual design being 300% everything I had wished for and more. A fairytale wedding dress made by an incredibly talented designer. Ladies I highly recommend Casey and she would give International designers a ride for their money.
- Maxi Haechler (Dubai)

Casey really made designing my dream wedding dress the best experience! From choosing the fabrics, popping champagne and having snacks on fitting days, to tweaking as we went along week by week and then having her "personally" delivering my dream dress! I mean, what more can a woman ask for when it comes to finding "THE dress"?! You are beyond amazing and truly gifted in what you do! Don't think words can ever describe how talented you are!!! Seriously!!!
- Welicia Louw (Umhlanga)

Casey Jeanne is the most talented dress designer I could have wished for. I am besotted with my beautiful lace wedding gown and I am still in awe at how she went out of her way to make me feel like a princess. She accompanied us in our creative photoshoot (in freezing cold weather) and helped with every single shot. Casey, you were just wonderful! Thank you again!
- Marisa Baglione (Kloof)

Casey how can I express my gratitude for making the most beautiful gown for my daughter. As a function coordinator myself I have seen hundreds of dresses but none meant more to me than hers...you were a pleasure to work with... a true professional... and the passion shows in your work. Lisa's gown was so beautifully crafted, a real masterpiece! You are a true artist. To all the brides out there that are looking for someone to make their wedding dress all I can say is don't hesitate for a minute... Casey is amazing... thank you for also taking the time to come to Hartford and fit the gown yourself. That shows dedication and for that and everything you did for Lisa. THANK YOU!
- Sandra Lunn (Umhlanga)

Thank you for making Janke's dream dress and making her look like the princess that she is. Thank you for going the extra mile, from detangling her veil from a rosebush, to walking in your stockings through the forest to make sure Janke's dress was perfect on each and every photo. No words can describe how much we appreciate you.
- Ruaan Siebrits (Cape Town)

Casey is one of the most special talented designers! I could not have asked for a more beautiful wedding dress and experience.
- Zuanite Ploos Van Amstel (Kloof)

The best designer by far. Casey made my gorgeous wedding gown for my special day and it was exactly what I wanted. The attention to detail and the quality of work is amazing.
- Ashley Lloyd (Johannesburg)

A BIG thank you from the bottom of my heart for creating my dream wedding dress! I could not have wished for a more perfect dress.
Thank you for everything you did. A special thank you for being there with me on my special day!
- Anna Downes (Durban)

SaveSave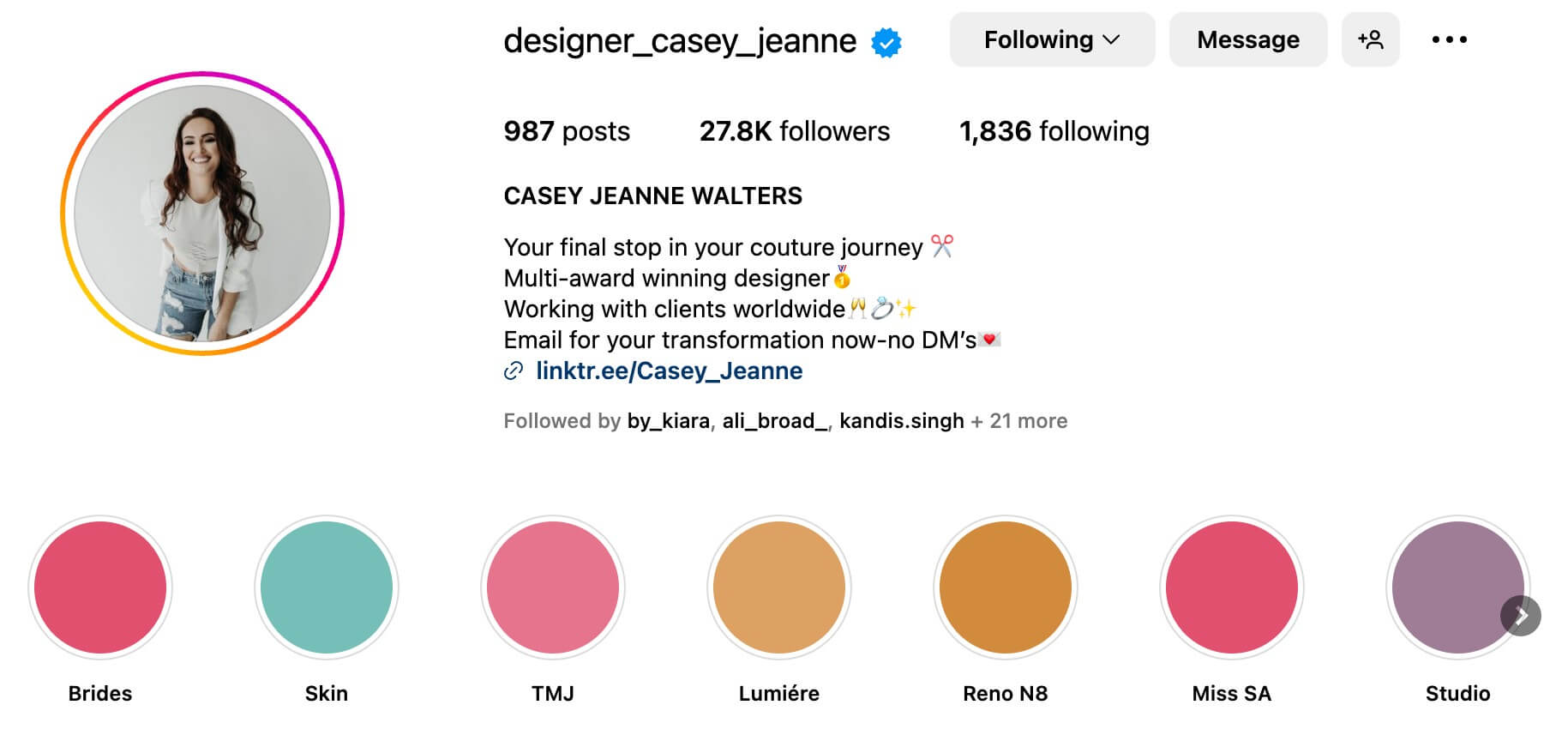 SIGN UP TO GET THE LATEST NEWS