The Casey Jeanne service thrives on the luxury of three invaluable concepts; design, time and exclusivity. For the woman who desires a dress just as unique as she is, Casey Jeanne's bespoke service offers unique, unparalleled designer pieces that will last for a lifetime of memories.
The first luxury of these investment pieces is that of design. Design in itself is an art-form and with the heart of 'couture à la main' at the forefront, masterpieces are created with the married vision of both client and designer, giving center stage to the house's savoir-faire and the body it will envelop. True to the phrase, 'laced in luxury', there is an authentic understanding to the craft and process behind it. A one-on-one consultation session offers a unique view through an artistic lens where client and designer 'select and create', through rails of exquisite laces and embroideries from all over the world.
With hundreds of hours going into the making of a bespoke, one-of-a-kind piece, the luxury of time is celebrated for the value that it brings. A dress that, to show at its best, will have gone through at least three fittings, sometimes six and even up to eight visits with the designer from initial consultation to final collection. Each piece is the result of an extensive and rigorous artisanal savoir-faire that creates the ultimate experience in refinement and finesse. The eternal symbol of femininity is celebrated throughout, and more importantly, the woman it is designed for.
The luxury of the exclusive comes next, because all the hand-made embroidery, the fabrics, the patterns and the colours, are all selectively considered and designed for the client. It is a remarkable prerogative of pure inspiration. Freedom of choice, freedom of movement, freedom of details are just a few ideals that come to mind when designing a once-in-a-lifetime Casey Jeanne piece. Through these principals, a luxury is formed: a vision of ultimate sophistication embedded in the here and now, the forever after, the rare and the inimitable.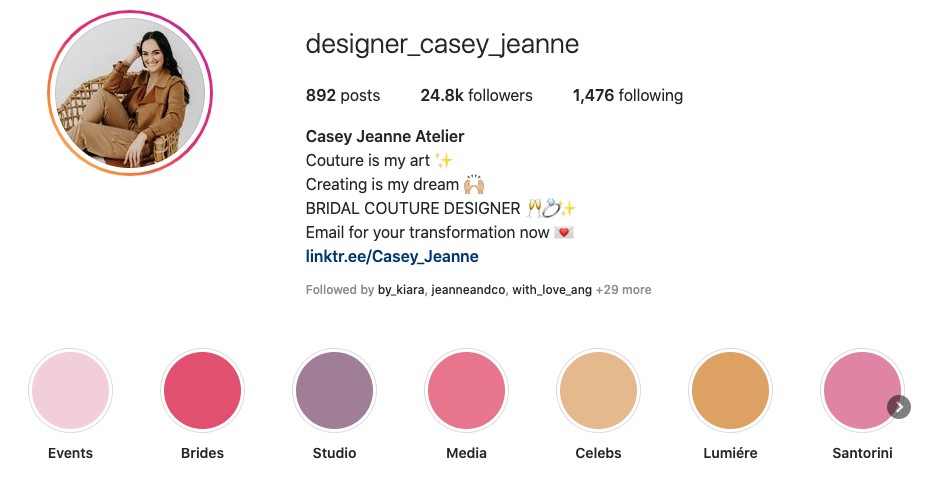 SIGN UP TO GET THE LATEST NEWS